Mum's Background
Mum was born in Plymouth on 27/11/19 to George Slemon and his wife Dorothy. She was the eldest child and in 1921 her brother Douglas was born.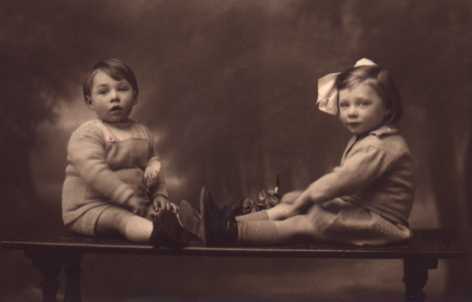 This is them in 1923

Her father George was in the Royal Navy and he spent most of her childhood at sea or in foreign countries. He sent her postcards and souvenirs of every place he visited including Malta, Jerusalem and Pompeii.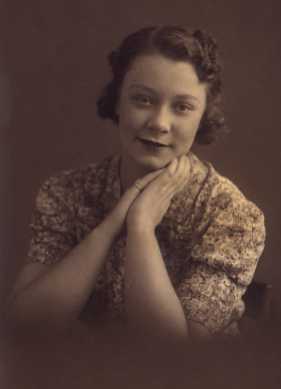 Mum in 1938
When the Second World War began Mum was just 20 years old and soon started work in a 'munitions factory in Gloucestershire. I have recently found some old photo albums and one contains a page of pictures of the friends she made during this time.

After the war she and a friend bought and ran a small hairdressing salon in Devonport, Plymouth, and only gave up working a couple of years after she married my Dad.
She met Sam Decent at a dance at a local hotel and they married on 3rd September 1949, and obviously 1999 would have been their Golden Wedding anniversary. In fact she died just three weeks short of that date which dad was really looking forward to. Because mum had been in hospital on and off since April we didn't have any definite plans, but there would have been a big party somewhere for them.

to see a full sized wedding picture click on the thumbnail.

After the wedding they had their honeymoon in Jersey and there are several photos of that in the album. Amongst the items I had to sort out were the telegrams from this day and Mum had also kept her veil and head-dress. There was a pillar that held up the top layer of the wedding cake there too, and even the little place cards for the seating order. This came as a huge surprise as she had always teased me about being too sentimental and not wanting to throw things away.